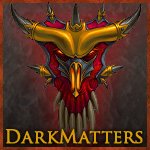 DEADLYPOTATOV98
New Arrival
Content Count

3

Joined

Last visited
Community Reputation
1
Fine
Previous Fields
Favorite pizza topping
Why do you want to join DarkMatters?

I want to join Dark Matters because it's one of the few (And by that I mean only) Sacred communities I could find. I'd like to be part of it.

All time best video game ever played
Real Name
Country
If you mean set up for it as in having the server software set up in then yes. I Administrate to a clan in a game called Battlefield Play4free. We have a server on a software called Raidcall. We play more then just FPSs though. (Atleast I do) So technically I'm set for any game. Out of respect for this community I'll withhold posting information about it as I know some communities don't like when others "Advertise" in their community without permission. EDIT : Brain.exe ERROR missing file in "Post.dll" (Basically I hit post before I should have xD)

Everything is going great. Been smooth sailing recently. I have some time now to make a post so why not? What do some of you guys do/enjoy? Also. I was wondering if the community had a voice communication software such as Teamspeak Vent or some many others. I'm interested in what you guys do together and this like that. ~DEADLYPOTATOV98

For all technical purposes I joined Dark Matters a couple weeks back. My uncle was in an accident at work involving a sizable work truck. (He's off the ventilator and doin just find now ) And now I've caught a cold so I decided with things relatively calm and the like now would be a good time to introduce myself. I started gaming at a young age. Infact my first game was Diablo 1 (The game is older then I am myself.. Wow.) My second was either Diablo 2 or Sacred 1. Can't quite remember anymore.. I'm very indiscriminate in game choice. I'll have as much fun playing a FPS as I will a RTS or RPG.