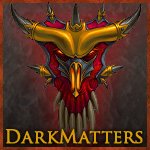 Content Count

5

Joined

Last visited

Days Won

1
Community Reputation
2
Fine
About k42um
Rank

Polonium Wizard
Previous Fields
Favorite pizza topping
Why do you want to join DarkMatters?
Just tried to edit an armor mesh as a test, but it appears invisible in-game. Would it work like this? 1) Convert the .gr2 to collada (.dae) via GR2ConverterDAE, with the "Divinity: Original Sin EE" profile. Default "Export Options" and "GR2 Export Options" were used. 2) Import the .dae in 3DX Max 8 and do the edit (I just deleted some vertices). 3) Export to .gr2. I tried the default options, and also the options explained in the step 6 of the "Importing and Exporting GR2 Models" tutorial. 4) Optimize mesh with GR2Preprocessor. Using the .smd format, as explained in t

Thank you! And hard as balls to find . I grabbed myself a copy on some old tennis game modding site... it's working, but I crossed a few very suspicious websites before. I'd PM you or Flix the mediafire link, but I don't have permissions for PMs . I don't know if I can post it here. Sacred 2 looks great even today, it would be a shame if its modding tools get too hard to find.

How would you import the DAE/SMD files into 3DSMax8 with these tools? Do I need some other plugin?

Hello there, Did you manage to successfully export the .gr2 files via Blender? Many files on the 3dsmax .gr2 thread are unavailable, so it seems Sacred 2 meshes are impossible to modify right now, unless you already have the necessary tools.