About This File
Sacred, as I presume, has been released when grungy ornamental designs were "in". I'm no artistic guru but I think, however, that is not the case anymore as sleeker, minimalistic designs are becoming more prominent. Just notice how several brand logos and app icons are now simpler and less 3D-looking. With this, in addition to my love for the GUI aesthetic of the Diablo games I've made Sacred's a little darker and flatter to suit my taste. Attached are the modded and original versions using my BLACK ARCANNA wonderbabe for comparison.

PIPES & ORNAMENTS. Right off the bat, everything is now a darker shade of gray, I.e. almost black, and the skill and inventory backgrounds were turned Black & White. I didn't remove the curves and vines but tried to make them less visible instead.
WEAPON & SKILL SLOTS. Inactive and active slots were turned Black & Gold, respectively.
BUTTONS. All the Blue icons are now White.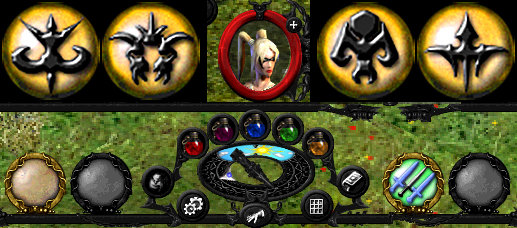 POTION INDICATORS. They are now bigger using the image of a Diablo 2 endgame staple, the Full Rejuvenation Potion, as base.
HEALTH METER. Turned less "glassy" and is now a darker shade of red. All bars below it such as horse stats and XP were also made a bit darker.
CLOCK. Clock frame has been reverted to a B&W version of an older style.
COMBO ICONS. There are a total of 8 combo icons from the texture files. I've replaced 2 to something I liked better and have also made them Black because the Blue and Yellow isn't doing it for me. Combo window background also turned violet.
OPTIONS. Options screen, as well as the PAUSE menu and the LOAD/SAVE GAME screens among others, were also given the same treatment leaving the buttons gold or in their original colors.
LOADING SCREEN. I got tired of the Wood Elf so I used the Dark Elf one and also got tired of him, but alas, no other character has been given bigger images like them so I custom made my own for all 8 from the journal portraits.
BONUS. Since were already on the matter here are some tips I've learned so far for those who are very new to the game. I've been in your shoes (maybe I still am) and figured it would've been nice if I knew these earlier:
 
TIP 1. The Dark Elf image is loading1.bmp inside the PAK folder. You could just back up the WE one and duplicate and rename the DE one as mentioned above to loading0.BMP (screen upon app launch). You can also do the same to replace the circular metal plate for the loadgame & savegame BMPs.
 
TIP 2. I've read somewhere that to permanently skip the intro cinematics you just have to rename or cut & paste somewhere else the files "ascaron.wmv" and "oem.wmv"
INSTALLATION. Copy and paste the unzipped files to the PAK folder inside your Sacred Directory. Backup original ones as needed.

HAPPY GAMING!