About This File
Hi! Relatively new to posting on forums and retexturing here. There was a handful of helpful guides I've read from this site when I was new to Sacred (I still am) and thought I should post these to somehow give back and also because somebody out there may like one of the designs I've made. Please go easy on me I'm no pro at Photoshop. Still, I probably had more fun editing than I should, thinking it was RPG dress-up. Makes you feel like an ar-TISTE 

I've chosen the Daemon (or "Demoness" since Daemon sounds like a virtual CD drive to me) because she has wings, can fly, has horns, also the ample proportions ... did I mention the wings? Forgive the hint of blue on the larger images. They're from the character select screen. 
BASE TEXTURE. A femme fatale with horns and wings reminded me of Disney's Maleficent  and so I gave her Angelina's eyes, brows, cheek contour and iconic lips as well as the skintight headpiece to cover up the bare head. The selection of the armor, spikes and whatnot will be the same for the rest only recolored. 5 skin tones for inclusivity and style including the original one. Lastly, wings could vary per color some inspired by characters from other games. Original texture on the left for reference.
NEUTRALS. White character recolors are almost non-existent even on the VK page maybe because it's hard to nail. I say there should be more. There's the chocolate skin for better contrast and since I already have both black and white I thought I'd give the Demoness another Disney villain retouch ... Cruella De Ville.
SUCCUBI. None of the feathered wings I tried looked like that of an angel's on a bat wing model and so I just called her the Succubus; minimalistic but sleek nonetheless. Blue is the original, Red is a recolor.
FAERIE DAEMON. Blizzard fan here. Played some of their old games and still do on occasion for the nostalgia. The wings above are that of a Faerie Dragon named Brightwing from the Warcraft franchise. Almost reminiscent of fairies from cartoons like Winx if you've ever heard of it. Colorful and Whimsical.
GREEN IVY. Through with Red and Blue now for a Green one, another sexy villain ... Poison Ivy. Wings are supposed to be leaves but them looking like leathery dragon wings is still fine if not better. Armor design looks like Tinker Bell's but it's actually a leaf armor concept by a race of vegetable people called Sylvari from a game called Guild Wars 2. Googled it never played it. Stock image of vines on the arms and legs for a nice finishing touch. Best for Poison Daemon builds.
VIOLET ZERG. Another Blizzard-inspired theme ... Kerrigan Queen of Blades from the Starcraft franchise. Once an intergalactic operative teeming with psionic powers who was abandoned to die during a batlle with a reptilian-insect-like hybrid race of aliens called the Zerg. She was mutated to fight against her former race, ditching bras and growing 5 inches of razor-sharp exoskeleton for heels. I cannot hope to make the Daemon look exactly like her but still dem glowing eye veins ... almost reminds me of the echoing line, "Evolution Complete."
BANSHEE. I consider this one a bonus inspired by countless reskins I've seen made by adding a colored filter to the original image. Instead, I played with the Invert filter making the Daemon look spectral. If you have Photoshop you can try it too with other characters. I find complementary colors interesting.
Note that the Daemon, as well as the Dwarf, re-textures work different from the other 6 as they have a single file inclusive of all body parts so I regret to say, no mixing and matching for both of them.
INSTRUCTIONS. Decompress the ZIP file, copy the one you like (folder names are mainly by color or by how I described them here) and paste them inside the PAK folder of your Sacred Install Directory.
Enjoy!
---
What's New in Version
1.0.0
See changelog
Released
BASE TEXTURE. Original texture and the Black Bat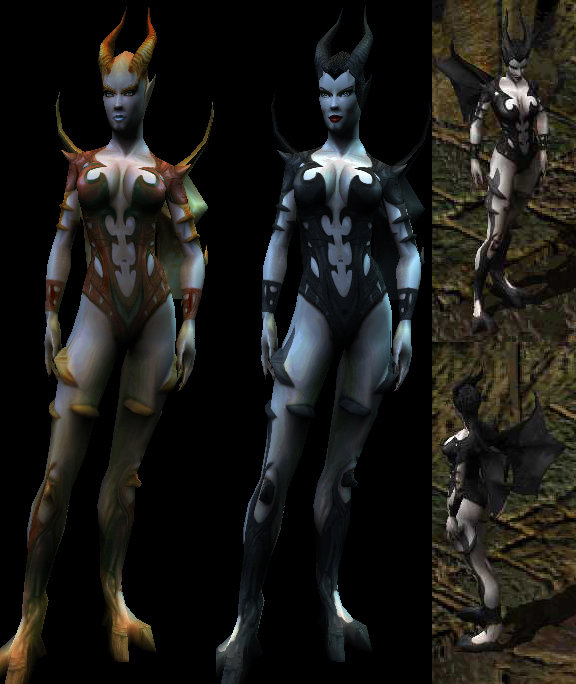 NEUTRALS. White on dark skin and Cruella Black and White
SUCCUBI. Blue and Red Succubi
FAERIE DAEMON. Blue and Pink Faerie Daemons
GREEN IVY. Poison Ivy theme
VIOLET ZERG. Starcraft Kerrigan inspired
BANSHEE. Inverted colors
No file changes. Reuploading to attach images.
1

1