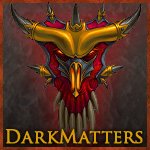 Posts

5,091

Joined

Last visited
Profile Information
Gender
Location
Interests

Jewellery making, Silver smithing ahh the alchemy! music, my friends, drinking gaming the usual and stuff I won't tell you :p
Previous Fields
Favorite pizza topping

I don't mind as long as I didn't make it

Why do you want to join DarkMatters?

Wine Absinthe whiskey coffee...erm....

All time best video game ever played
Country
erialc's Achievements

Copper Fortune-Teller (17/20)
Schneeeeple! halloo all! Been a long time since I dusted off a chair and more importantly bought a round drinks! *Barkeep, a round of your finest please*

Hey Loco good to meet you! Here's your coffee Katran! woo hoo! Beers all round! And Bond I see you up there! How are you?, still cooking up a storm in the kitchen I hope! Good to be back here been too long! Whats the news? *hugs*

*wanders in* Been a long while but I'm back to open up a tab at the bar hehe (Katran's tab=p) Who's having what? How are you all?

Oh thats a sweet sig! Love the colours! =D

Ah great video LordRaviel love all the hack n slash noises keep em coming Quality is good for me and look forward to many more

I am in Sheffield not so far! Pev left Yorkshire I think. I would be honoured to attend even if I invited myself I'd be more than happy to send you some reggae reggae sauce! haha it goes oddly with so many things! pm me seriously if you want a bottle! haha surely customs can't stop sauce...can they:) Our meal on Saturday was lovely!..I had aspargus to start with a propr poached egg and parmesan (I can't poach eggs so if anyone has a tip or 3 hundred make a thread!) then veal with veggies! the veal was ok not the best but ok But I am hijacking your thread....sauces...ahh daddies hahah remember that stuff very crazy-looking and sharp...not had it for years wonder if they have made it sweeter! I swear sauces are sweetened up these days! Chefs emoticons hahah yeah Bond we should have some...pinches gogo and the team :

Ahh Bond....you make the greatest food threads Mothers cooking...oh god ofc that ritual of the Sunday Lunch! I remember not so long ago there could be anything up to 14/15 of sat chowing down for lunch, vino in hand debating the topics of the day, but even when I was much younger I loved Sundays with all the 'grown ups', listening eating taking it all in, just really loved it! Made me feel part of a clan I think there were so many of us, my Grand Parents on the English side, Aunt's Uncles, Cousins LOL how the heck she did it for so long, then again all the Aunts would help and we ofc had the end product of washing up. Do you know Onion Sauce Bond? We always had it with our roasts, that stuff has taken me years to learn to make and even now I can get it very wrong! Yorkshire puddings higher than towers and thick dark gravy! mmmmm...ahh brings a very nostalgic tear to my eye actually! You know how it is, my grand parents are both no longer here, we all move around and somehow now that ritual is not every Sunday but I used to look forward to that meal every week! As soon though as I can get them all together I try my best and we still have fun! Now my kids are in the place I was! My Mom made great food though, Spag Bol, meatballs and pasta, stews though I only ate the gravy and the tatties and the dumplings! hahaha On my Irish, side my mouth is really watering now! My Nan used to make the most awesome breakfasts, they were like a weeks meal! Soda bread, potatoe cakes, bacon, sausage, black pudding, white pudding, eggs, fried bread, tea haha then she would be up and at it whilst we would groan at how full we were! OMG that woman could COOK! Dinners..Irish Stew, colcannon, boxty, you name it she could make it....but home made warm soda bread with salty melty butter (did I mention that already?) were equally huge! and ALWAYS with dessert afterwards!...haha bedtime...hot milk haha with a sneaky splash of poteen...you'd get locked up for that now!...I always thought the fresh air made us sleep! Can't believe how much I just wrote and I am not even half way there!...Bond I salute you, you gave me such a wicked memory trip! And your singing round the piano! how wonderful! You take me right back to Ireland with so much of your post! Myles...Oh how I'd love to have tasted the food you grew up with as a child! Amazing thread come on peeps lets go back in taste bud time!

haha Bond, it was the same at our house!...3 girls til I was 12(got a little bro then and he had to help when he was big enough) and it was wash, dry or put away...or else LOL, my kids are useless though! They asked me in horror when my dishwasher packed upp what was going to happen to the dirty dishes....boys eh! I have tried to get them to help but they just cause havok and soak the kitchen! You weren't nasty, I should borrow you to train my monkies! Reggae Reggae sause was made by a guy called Levi roots, I think he first presented it on that show Dragons Den...here's a linky for you Reggae Sauce quite nice and hot n spicey! Oooh I am drooling at the thought of your roast lamb sunday lunch tomorrow! Can't beat a leg o lamb! I'm off out for dinner very soon (10 mins lol) so I will come back to this later but I couldn't resist saying hi to you Bond....I want to come to your 81st and chat about food and beer with you! be back later and always great to hear from you!

Hope you still managed to have a good birthday though!

I have to leap in drooling here! Sunday Lunch is a must for us here....as many Sundays as I can ,manage!...kids, mates, family...anyone who is around lol gets to eat, stir, poke meat and have a few drinkies. Don't worry about the space gogo I live in the smallest house ever and I just serve the kids first, clear away then start again, it's kind of fun the kids run off to watch dvd's, play, fight etc then drift in and out making us all giggle! Oh Bondbug, Hendersons Relish....yummy, in shepherd's pie, on cheese on toast, on loads of things! deeeelicious! The kids have a mad love of reggae reggae sauce here, my eldest adds it to his shepherd's pie, hehe his signature dish that he loves creating.....friends who come over are always invited by him to have him cook them some and I have been sent out twice for mince LOL Ahh food threads, why do I read them so late at night!...me thinks a bacon butty with a good lashing of English mustard is in order!

hahaha....HUG FEST! This awesome! Loads a birthday hugs and smoochies! :drinks: and an extra pinch for gogo

Big happy Birthday to you

That's sad and very frustrating for you Nlovae Maybe you'll have a break and then come back refreshed and ready to play again! I remember some of the odd and irritating bugs from S1 and I once or twice took a break then kept on coming back. I know there are a lot of great peeps here though who will I am sure happily give you items for your dryad! Take care and hope you'll pick up your game again when you are ready

Ahh so a belated Big Welcome to you! Hats off to you all who have been working so hard on the wiki....it's huuuuge and a wicked source of information!